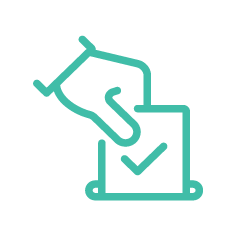 Throughout 2022, our equities teams voted on 58,042 resolutions.
Voting is an important investor right and responsibility. The table shows the number of times the teams have voted against management recommendations, against our proxy advisor's recommendation, or against both. For a detailed breakdown on our voting record, please refer to the Stewardship Report.

Source: Proxy voting information for 12 months to 31 December 2022. Source: CGI Glass Lewis/First Sentier Investors.
Disclaimer: Reference to specific securities (if any) is included for the purpose of illustration only and should not be construed as a recommendation to buy or sell the same.
Disclaimer
To the extent this website contains any measurements or data related to environmental, social and governance (ESG) factors, these measurements or data are estimates based on information sourced by the relevant investment team from third parties including portfolio companies and such information may ultimately prove to be inaccurate.
To the extent this material contains any ESG related commitments or targets, such commitments or targets are current as of the date of this publication. They have been formulated by the relevant First Sentier Investors (FSI) investment team in accordance with either internally developed proprietary frameworks or are otherwise, based on the Institutional Investors Group on Climate Change's (IIGCC) Paris Aligned Investment Initiative framework. The commitments and targets are based on information and representations made to the relevant investment teams by portfolio companies (which may ultimately prove not be accurate), together with assumptions made by the relevant investment team in relation to future matters such as government policy implementation in ESG and other climate-related areas, enhanced future technology and the actions of portfolio companies (all of which are subject to change over time). As such, achievement of the commitments and targets set out on this website depend on the ongoing accuracy of such information and representations as well as the realisation of such future matters. FSI will report on progress made towards achieving these targets on an annual basis in its Climate Change Action Plan. The commitments and targets set out on this website are continuously reviewed by the relevant investment teams and subject to change without notice.