Most carbon footprint methodologies focus on direct emissions from owned or controlled sources, plus emissions from the generation of purchased energy. However this focus on carbon footprinting is potentially missing significant risks in portfolios and can even, at times, be misleading.
Infrastructure and utilities are at the epicentre of global efforts to reduce carbon emissions. The power generation and transport sectors, along with the infrastructure that supports them, need to evolve their business models for a two degree scenario to be achievable. Allocating capital appropriately within this space can effect meaningful change in the fight against climate change.
Investors measuring a company's green credentials with carbon footprinting may be missing significant risks in their portfolios.
Most carbon footprint methodologies focus on direct emissions from owned or controlled sources, plus emissions from the generation of purchased energy. This approach can lead to assets appearing carbon friendly, despite a close association with substantial emissions further along the value chain.
Working through the value chain
Here we compare NextEra Energy (NextEra), which is the largest wind operator in the United States with Enbridge Inc, a Canadian oil pipeline company.
The following chart compares their carbon intensity over time using a traditional (or 'direct emissions') approach. On this metric, Enbridge appears to be far less carbon intensive than NextEra.
This is because the emissions associated with the fossil fuels transported by Enbridge are allocated to the transport sector and not to Enbridge itself. However in NextEra's case, the emissions produced by its power plants are allocated to the utility.
This analysis misses that Enbridge's assets are responsible for transporting 65% of all Canadian energy exports to the US. It also misses that NextEra is much better positioned for the transition towards a lower carbon economy.
Carbon Intensity Scope 1+2 over time (metric tons/revenue)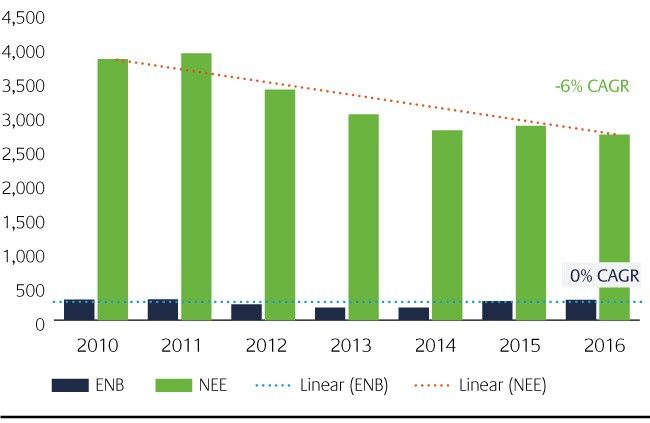 As at 30/06/2018. Source: First Sentier Investors & Bloomberg
Flaws of a single metric
Using carbon intensity as the only form of analysis has the following flaws:
It ignores change. Carbon emissions for NextEra fell by 6% CAGR (Compound Annual Growth Rate) over this period, reflecting its investments in wind technology and improved carbon efficiency. The corresponding change for Enbridge is zero.
It ignores climate action. An investment premised solely on the metric of carbon intensity supports the use of oil pipelines versus other cleaner resources – thus having no impact on climate action.
It ignores stranded asset risk. Following progress in clean energy generation, the disruption of the transport sector could represent the next global wave of decarbonisation. This implies a structural decline in demand for oil, and a risk that infrastructure associated with oil storage and transportation may no longer be able to earn an economic return.
It is crucial to look beyond a single metric when looking at sustainability or decarbonisation, as this approach may not deliver the anticipated outcome.
We encourage people to consider the limitations of focusing on a single metrics like carbon footprinting, and instead consider a suite of factors that provide fuller context and deeper insights into the real risks and opportunities associated with climate change and decarbonisation.
Important information
This material is for general information purposes only. It does not constitute investment or financial advice and does not take into account any specific investment objectives, financial situation or needs. This is not an offer to provide asset management services, is not a recommendation or an offer or solicitation to buy, hold or sell any security or to execute any agreement for portfolio management or investment advisory services and this material has not been prepared in connection with any such offer. Before making any investment decision you should consider, with the assistance of a financial advisor, your individual investment needs, objectives and financial situation.
We have taken reasonable care to ensure that this material is accurate, current, and complete and fit for its intended purpose and audience as at the date of publication. No assurance is given or liability accepted regarding the accuracy, validity or completeness of this material and we do not undertake to update it in future if circumstances change.
To the extent this material contains any expression of opinion or forward-looking statements, such opinions and statements are based on assumptions, matters and sources believed to be true and reliable at the time of publication only. This material reflects the views of the individual writers only. Those views may change, may not prove to be valid and may not reflect the views of everyone at First Sentier Investors.
About First Sentier Investors
References to 'we', 'us' or 'our' are references to First Sentier Investors, a global asset management business which is ultimately owned by Mitsubishi UFJ Financial Group, Inc (MUFG). Our investment teams operate under the trading name of Stewart Investors which is part of the First Sentier Investors Group.
We communicate and conduct business through different legal entities in different locations. This material is communicated:
•  in Australia and New Zealand by First Sentier Investors (Australia) IM Ltd, authorised and regulated in Australia by the Australian Securities and Investments Commission (AFSL 289017; ABN 89 114 194311)
To the extent permitted by law, MUFG and its subsidiaries are not liable for any loss or damage as a result of reliance on any statement or information contained in this document. Neither MUFG nor any of its subsidiaries guarantee the performance of any investment products referred to in this document or the repayment of capital. Any investments referred to are not deposits or other liabilities of MUFG or its subsidiaries, and are subject to investment risk, including loss of income and capital invested.
© First Sentier Investors Group