Why should it matter to investors?
Representation matters in business and diversity should extend beyond just gender. Factors such as race, religion, socioeconomic background, sexuality and disability should all be of equal importance.
Different ways of thinking and different life experiences create more varied teams that can make better decisions. Moreover, greater diversity, achieved in an inclusive and equitable environment, leads to better outcomes for businesses and the community. McKinsey & Company found that diverse companies perform better especially if the organisation's leadership is diverse.

They have found that organisations in the top quartile with gender-diverse executive teams were 21% more likely to experience above-average profitability than their industry peers, and organisations with ethnic and culturally diverse leadership are 33% more likely to outperform their peers.1
Diversity leads businesses to consider various perspectives and develop better, more robust strategies and approaches. This is likely to lead to an increase in productivity,  translating to higher profitability and better financial performance.
Diversity also sparks innovation. Boston Consulting Group found that organisations with policies and practices supporting diversity increased innovation revenue by up to 12.9%.2 Embracing different perspectives can help businesses to innovate and generate new ideas and solutions, driving long-term competitiveness. 
What is First Sentier Investors doing?
At First Sentier Investors, we think about diversity beyond the lens of gender, with factors such as race, socioeconomic background, sexuality and disability being of equal importance. We are committed to improving diversity within our own firm, as well as advocating for change at the company level. We also believe that diversity can only be achieved in an inclusive and equitable environment.
In 2021, we commenced a review of our global strategy for Diversity, Equity and Inclusion (DEI) which included input from many stakeholders including our board, leadership team and employees.
This strategy will focus on diversity, equity and inclusion across all regions with pillars focusing on:
Fostering an inclusive culture

Levelling the playing field

Engaging our People

Alignment with our Responsible Investment and Corporate Sustainability strategies
An important step was our inaugural Diversity Census, designed to help us better understand the composition of our global workforce and look for areas to improve. There is a snapshot of results on page 29, noting that the census was voluntary, with a 65% participation rate and the data is representative of those people who responded to each question. 
We know that ongoing engagement with our people is critical to making meaningful change. To enable this dialogue, we re-launched our global DEI steering committee, created an internal microsite profiling DEI activities, and sought feedback through our engagement survey and focus groups. We also established employee communities, initially in EMEA and the US, with a focus on six DEI areas, to provide forums to raise specific initiatives and discuss the lived experience and needs of our workforce at all levels.
Industry collaboration is also important in achieving change. Some examples of programmes we are involved in include: 
A UK-based industry-wide initiative to support Black interns in investment roles (#100 Black Interns, welcoming our first cohort of two interns into the unlisted infrastructure team in mid-2021).

Participation in the Girls are Investors (GAIN) Empowerment Investment Internship programme, taking on two interns into our Stewart Investors St Andrews Partners investment team.

Partnering with the Financial Services Skills Commission, we contributed to the launch of an industry-wide report on the impact of menopause for women in financial services.
 
Increasing female representation at senior management and board levels continues to be a focus for First Sentier Investors. While it's not the only diversity factor to consider, it's an important one. We made an ambitious commitment during the year, becoming a signatory to the Financial Services Council Women in Investment Management Charter, which is designed to increase the gender balance within our industry. We set a target for women to comprise at least 40% of our investment management staff in Australia by 2033. While this is a significant step up from the current 26%, it was a considered decision. We know that to achieve it, two-thirds of future investment management hires will need to be women, and we will need to retain them as their careers develop. Nonetheless, we are committed to achieving the goal and have several initiatives in place to work towards it.
Feature
First Sentier Investors believes publicly disclosed targets can play an effective role in driving change, which is why we are signatories to initiatives including the FSC WIM Charter, 30% Club, and 40:40 Vision. 
Recent research by Realindex supports this view, showing that gender diversity on boards has progressed significantly in the last decade, as most developed markets have put quotas in place. Senior management, on the other hand, attracts far less attention or regulation. It has fallen well behind in terms of progress. It suggests that what gets measured, gets done, and that pressure from regulators and investors can drive real change.
Source: Realindex research 2021
Every year, we publish a global scorecard that shows the gender breakdown of our staff. While there has been little change overall, the scorecard is moving in the right direction and we know that meaningful change takes time. There has been a promising uptick (13%) in female new starters within investment teams, which aligns with the change needed to meet our WIM Charter goal.
First Sentier Investors Gender Diversity Scorecard
Source: First Sentier Investors. Data as at 31 December 2021.
This is a snapshot of our inaugural Diversity Census, noting that the census was voluntary, with a 65% participation rate and the data is representative of those people who responded to each question.
First Sentier Investors Diversity Census 2021 Results
All data is sourced from First Sentier Investors as at 22 October 2021.
As we try to improve our own diversity, and encourage the companies we invest in to do the same, this raises questions about how to overcome obstacles and achieve change.
The research by our Realindex investment teams shows us that both companies and investors need to create higher expectations around diversity of all kinds, from publicly stated targets to legislated quotas.
As with all systemic issues, collaboration is key to addressing the challenges to improving diversity. We will continue to collaborate with the Australian 30% Club, 40:40 Vision and the FSC on this topic, and will also look for additional ways to influence this issue. In 2021 a number of investment teams engaged with companies based in emerging markets, which is a good start, but an area where there is much work to be done. Within First Sentier Investors, we will be implementing our refreshed global diversity, equity and inclusion strategy.
1 https://www.mckinsey.com/business-functions/people-and-organizational-performance/our-insights/delivering-through-diversity
2 https://hbr.org/2018/01/how-and-where-diversity-drives-financial-performance
Responsible investment reports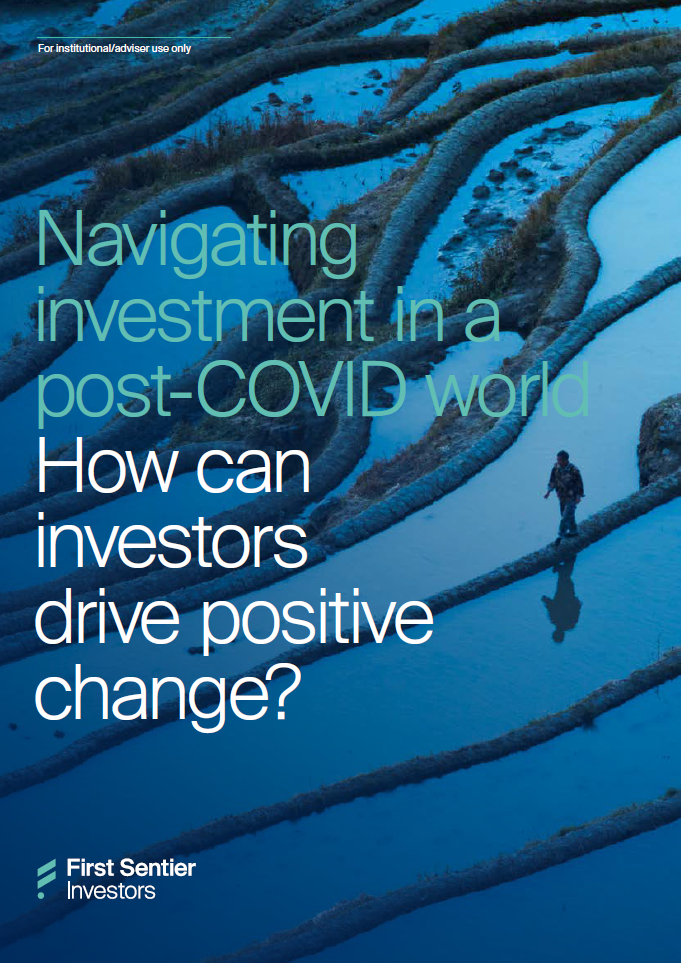 Read our report: 'Navigating investment in a post-COVID world'.