While each of our 17 investment teams has its own distinct investment process, they all share a commitment to RI. Together we aspire to be a global leader in responsible investment and stewardship practices and believe that our diverse investment teams are a key strength in achieving that aim.
Australian Equities, Growth
ESG risks are primarily identified by a rigorous company engagement program. The team equally weights its own assessment from these engagements with quantitative measures to generate a proprietary ESG score. Analysts incorporate this score together with fundamental analysis in determining an overall stock rating (Buy/Hold/Sell). The team believes that assessing companies' ESG disclosure encourages better performance in these areas.
The team works in partnership with other investment teams within the firm. As part of this approach, the team draws upon the analyst research from various investment teams, which includes the identification of any relevant ESG issues.
Australian Small and Mid-Cap Companies
ESG considerations influence all the team's investment decisions, given that sustainability is one of the six key criteria used in its evaluation of companies. ESG issues are also frequently raised with senior management and board members during its extensive engagement with companies. These discussions make an important contribution towards its investment view. Where ESG factors are determined to have a material impact on profitability, they are quantified and can influence other factors, most directly in the valuation and financials of the company. These considerations ultimately influence the selection of stocks in the portfolio.
Global Property Securities
Responsible Investment has been deeply ingrained in the team's culture for over a decade. ESG considerations are directly embedded into two parts of its investment process. Firstly, the team aims to mitigate ESG risks in the initial screening of its investment universe. Secondly, ESG factors directly feed into its valuation methodology, whereby securities with better ESG scores achieve higher intrinsic valuations and are therefore favoured in its stock selection process. While the team uses third party research, in-house research and direct engagement with companies remains the most important source of reference for ESG information, given the team's intricate understanding of the global property securities sector.
Global Listed Infrastructure
ESG issues are fundamental to infrastructure companies, given they have significant service obligations and moral accountability to the communities in which they operate. ESG-related criteria has always been fully incorporated into the team's investment process, and account for 25% of the overall quality score it assigns when considering investment. Company engagement, to encourage ESG best practice for the benefit of investors, is a key part of the team's investment approach.
To FSSA, ESG and sustainability are not just labels, but a set of values by which they operate. Their investment universe consists of countries which are among the most vulnerable to environmental challenges, suffer from severe inequality, and can be highly susceptible to corruption. For these reasons, since the inception of the team, the focus has been on identifying quality companies and management teams that address these challenges head-on and, as a result, deliver better outcomes for all stakeholders. FSSA invest in companies that contribute meaningfully to sustainable outcomes and where there is the management foresight, technology and ideas to address changing societal and environmental expectations. Companies that do not deliver sustainable value for their customers, employees, suppliers and the larger community are unlikely, in FSSA's view, to be rewarding long-term investments. It is the responsibility of each analyst to identify ESG opportunities and risk and incorporate into all bottom-up company analysis, valuations, stock selection and engagement.
At the heart of the team's philosophy is the principle of stewardship – careful, considered and responsible management of its clients' funds which are articulated in the team's Hippocratic Oath. The investment team is responsible for all company analysis including ESG, identifying engagement priorities, monitoring and engaging our investments and for making all voting decisions. Sustainability considerations are an integral part of its investment philosophy and stock-picking process. The team's focus is on evaluating the sustainability risks and opportunities of companies based on fundamental bottom-up research. For the Sustainable Funds Group within Stewart Investors, sustainability must be core to a company's business model, not an optional extra.
Responsible investment and stewardship principles are important to its approach to investment management and an area of ongoing research. The team's approach to ESG integration can be grouped into 3 key areas: 1) encourage companies to effectively manage the ESG risks and opportunities facing their businesses through proxy voting and engagement; 2) understand ESG risks in our portfolios; and 3) integrate ESG factors and considerations into our investment processes to enhance performance and/or manage risk.
ESG issues can have a significant bearing on default risk. Historically, poor corporate and regulatory governance have been recognised contributors in most corporate failures. Consequently, ESG risks are identified as part of the team's bottom-up credit research process to help manage default risks in bond portfolios. Its ESG assessment has an important bearing on proprietary internal credit ratings that are assigned to every credit we review, in turn influencing portfolio construction decisions. As well as this bottom-up research, ESG factors are considered as part of its position sizing discipline.
The team has the distinct advantage of being able to engage directly with its portfolio of companies via board representation and/or workshops with management, giving it the opportunity to set ESG targets, develop initiatives and help drive cultural change.
The team's approach to RI is integrated within the investment process of the objective-based funds and can be incorporated into bespoke mandates. The RI approach encompasses ESG considerations as well as the use of ethical screens based on nine themes which can exclude specific 'red flag' companies or industries, such as those involved in fossil fuels. These screens are applied consistently across all asset classes according to these themes. Furthermore, the team incorporates ESG considerations when voting on all company resolutions where it is able to do so.
Responsible investment reports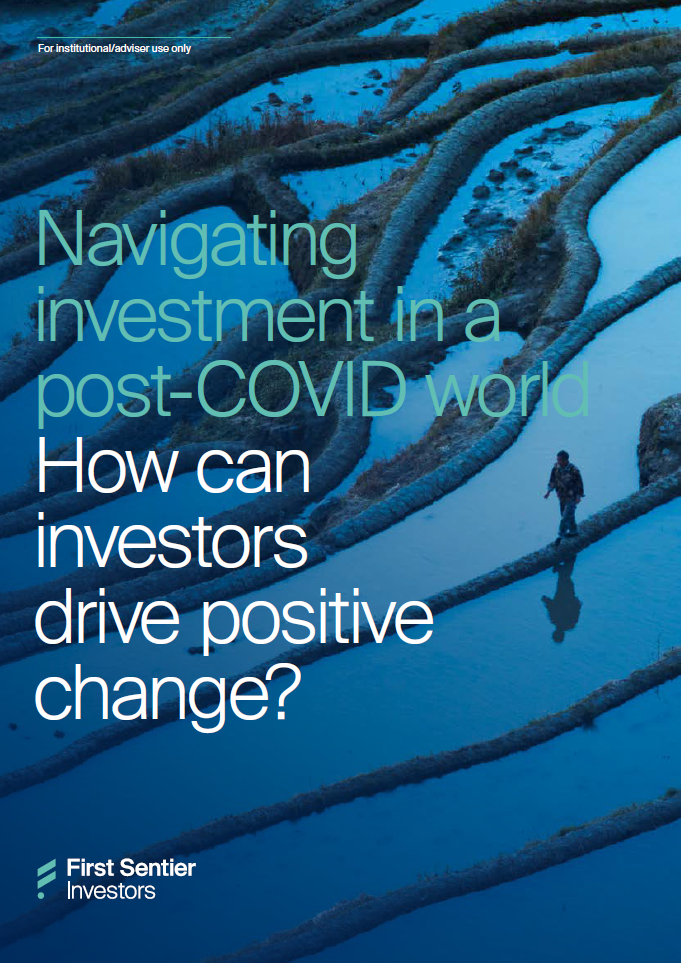 Read our recent Navigating investment in a post-COVID world report
Focus on our sustainability goals